The "Lost" Issue, Volume 3, 2011
---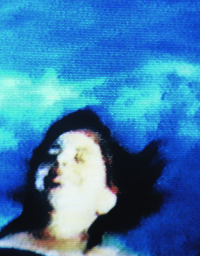 COVER ART: "Floating" by Molly-Rose Arnstein; 40" x 30"; Chromogenic Print, 2010
---
Online Content
The third issue of our print journal was scheduled to appear in March 2012. Although the issue was completely edited, laid out and proofread by late 2011, virtually all of the sources of financial support for Packingtown Review ran dry by the time the issue was turned over to the University of Illinois Press. For years, the press was holding the issue's content and the list of subscribers as collateral, but we're fianlly able to share a raw PDF with all the content that was supposed to appear in the issue. You can now download the PDF on our blog: the writing is as fresh as the day it was copyedited!
---
Table of Contents
Creative Nonfiction

Dead fish on the Road: A treatise on Absence

Icarus

Fiction

The Progress of Tongues

Landscape with Building, Zoo, and Hardly Any Animals

Tuesday

The Ted Costume

Poetry

Apantomancy

Ultrasound

Gull in Oil

Bow Hunters in the Sahara

The Old English Rune Poem

a mass of elements, this man who sleeps next to me
i have been sleeping in all your beds

Elegy for Bridges

A Ferryboat
Lines
from Moth; or how I came to be with you again
Piranha to Scurfly Scale
The Test

Hers

*

For Anton

from Leafmold

Ecchymosis

Body Cento: From the Decade I Edited
Night Walk 2
Scholarship and Critical Commentary
Review of Tinkers, by Paul Harding

Writing in Waves, a Poem on a Pond

Constructing Paralysis: The (Lethal) Narrative of Momentous Consequence

Visual Art
Armful
The Boys
Handholding
Toss
The Big Yawn
The Big Yawn 2
The Big Yawn 3
Origin Story Series 1
Origin Story Series 2
Origin Story Series 3
Origin Story Series 4
*Invited contributions from the members of the University of Illinois at Chicago community.
---
Masthead
Editors-in-Chief
Jocelyn Eighan and David Jakalski
Founding Editors
Tasha Marren and Snežana Žabić
Managing Editor
Megan Milks
Production Editor
Anne Derrig
Fiction Editor
Andy Farkas
Nonfiction Editor
Maggie Anderson
Poetry Editor
Sara Tracey
Scholarship Editor
Jennifer Hawe
Art Director
Matthew Corey
Cover Design
Molly-Rose Arnstein
Director of Copyediting
Jennifer Moore
Copy Editors
Jenny Morse, Brianna Noll, and Brooke Wonders
Webmasters
Todd Marren and Roman Stypula
Associate Editors
Paul Albano, Jennie Berner, D. Star Costello, Cynthia Cravens, Colby Cuppernull, Chris Garman, Chad Heltzel, Virginia Konchan, Laura Krughoff, Andrea Leavey, Megan Milks, Tyler Mills, Jenny Morse, Brianna Noll, Roxanne Pilat, Jay Shearer, Sacha Siskonen, Brooke Wonders, Snežana Žabić
Interns
Michael Anderson, Stephanie Cascio, and Abbie Webb
Faculty Advisers
John Huntington, Cris Mazza, David Schaafsma, Luis Urrea