Volume 2
---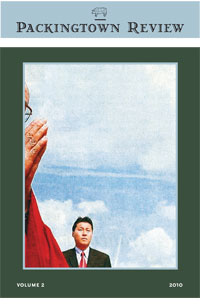 COVER DESIGN: Amy Gates

---
Table of Contents
Creative Nonfiction

On Friendship

Artist's Statement
Tin Scraps

Garden Path Paragraphs: Variations on Eggs, Faith, Doubt, and Fathering

Drama
from Medea with Child

One and All of Noble Birth

Urmuz

Fiction

Neshaminy

By the Flickering Lights of a Time Machine

The Man from Istanbul

Poetry
from Friend of Mies van der Rohe
The Dead Letter Detective Finds a Clue
The Dead Letter Detective Grows Old
The Dead Letter Detective Writes to His Lover

A History of Nut Allergies

from Wroth: 101 Notes on Violence

Two-Tagged Ekphrastic

Black and White Picture #29

Sampler

Pontius Pilate
The Early Evening Phenomena of Winter Sabbath

The rabbi is pressed into service

The Art of the Placebo

February 2nd, December 29th, August 3rd, etc.
Her Name was Name
from Fragments (trans. John Taylor)

X

Double Love Quarantine
Huang Yu: Yellow Rain
Prayer of Transparencies
Salt Eclogue
la fille fragile

Your Time Between Ghosts

Pilgrim's Path
Reflection on Lethe

Snow that Falls like Amnesia

A bladder bag to split the earth's water
Cloud
from I go by Edgar Huntly now

Spud Serenades the Artichoke

It's Late, and Then It's After

Scholarship and Critical Commentary
Review of The Age of Orphans

Looks, Is, and Does

The Director of the Flyover States: On John Hughes

Review of Placed: Karesansui Poems
Review of Door Languages

Queering Love: (Private) Conversations as Counterpublic

Homing Memories: Place and Mobility in Jean Rhys's Voyage in the Dark
Visual Art
Artist's Statement: Suspicious Minds
SM #82
SM #106
SM #113
Artist's Statement: Sears Tower
January 19, 2009; Sears Tower; East View
January 19, 2009; Sears Tower; South View
January 19, 2009; Sears Tower; South View
January 19, 2009; Sears Tower; West View
*Invited contributions from the University of Illinois at Chicago community.
---
Masthead
Editors-in-Chief
Matthew Corey & Jennifer Moore
Founding Editors
Tasha Fouts & Snezana Zabic
Managing Editor
Star Costello
Production Editor
Amy Gates
Poetry Editor
Chad Heltzel
Fiction Editor
Jocelyn Eighan
Nonfiction Editor
Roxanne Pilat
Scholarship Editor
Lucas Johnson
Drama Editor
Lyndee Yamshon
Art Director
Jennie Berner
Intern
Maureen Hickey
Faculty Advisers
John Huntington, Cris Mazza, David Schaafsma, Luis Urrea
Webmaster
Todd Marren
Back to Issues